Mexico is a country located in the southern portion of North America, covers a period of more than two millennia. First populated more than 13,000 years ago, the country produced complex indigenous civilizations before being conquered by the Spanish in the 16th Century.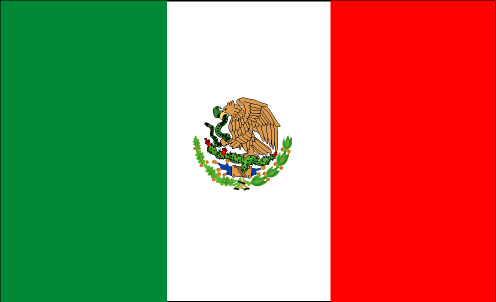 Flag of Mexico
Facts:
Mexico is the 14th largest independent country in the world, the 11th most populous country in the world and the most populous Spanish-speaking country in the world.

Mexico has a free market economy and has the 11th largest GDP in the world.

There is no official language. Spanish is spoken by 97% of the population.

The official currency is the Mexican Peso.

In 2000 Mexico became the 11th country in the world to have 100 million people.

The country is abundant in minerals—notably silver, copper, sulfur, lead, and zinc.

Mexico is nearly three times as large as Texas and more than twice as large as Venezuela.

It is home to the largest bullfighting ring.

The country has the oldest living tree in the world. It is 40 feet tall.